Basilica di Santa Maria Novella
Santa Maria Novella is the headquarters of the Dominicans in Florence: its interior is full of details and its walls hide authentic works of art.
Much like Santa Croce was the main church of the Franciscans, the Basilica di Santa Maria Novella has been the main Dominican church in Florence since 1221.
The church's interior walls are decorated with frescoes that represent the daily life of the inhabitants of Florence during the Middle Ages. The temple's attention to detail is remarkable.
The two main works of art housed in the Basilica are: The Holy Trinity, a fresco by the painter Masaccio, who was a pioneer in his use of perspective and mathematical proportions. The second is the wooden Crucifix by Brunelleschi (the artist's only sculpture in wood).
The Green Cloister
Built and decorated in 1332 by Paolo Ucello, the Green Cloister (Chiostro Verde) houses the Spanish Chapel on the north side. Here is the renowned fresco by Andrea di Bonaiuto da Firenze called Allegory of the Active and Triumphant Church and of the Dominican order.
Is it worthwhile visiting?
The interior of the Basilica di Santa Maria Novella is very colourful and if you have visited Venice, it will remind you of many of its churches. In our opinion, Santa Maria is one of the most charming churches in Florence, along with Santa Croce and we definitely recommend it.
On the other hand, the visit to the cloister is not all that exciting.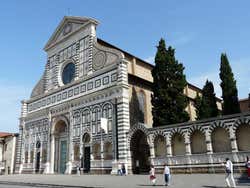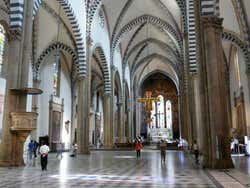 Schedule
Adults: €5
Students (aged 18 to 25) and seniors (over 65): €3.50
Children (aged less than 5): free entry
Price
From Abril until September:
From Monday to Friday: 9 am to 7 pm (Friday from 11 am).
From October until March:
From Monday to Friday: 9 am to 5:30 pm (Friday from 11 am)