Campanile di Giotto, Florence
The Campanile di Giotto is the Florence Cathedral bell tower. It was built during the fourteenth century by Giotto and Andrea Pisano.
The Campanile di Giotto is the elegant bell tower of the Florence Cathedral. It's considered one of the most beautiful spires in Italy thanks to its harmonious coloring and its sculptural decorations. The tower is made of white, green, and red marble, similar to the Cathedral.
Facts about the Campanile
The construction of the belfry began in 1334 and three years later the architect Giotto di Bondone passed away, not living to see his construction finished. Following his death, the bell tower was completed by Andrea Pisano in 1359.
The lower floor of the tower is decorated with 54 bas-reliefs and the top part of the belfry has numerous alcoves adorned with statues of saints and prophets. All the statues are copies, but you can see the originals in the Museo dell' Opera del Duomo.
Florence from above
The Campanile di Giotto has 414 steps that lead to the highest point of the structure, but the way up is not at all tiresome. Visitors will be pleasantly surprised when they get to the top at 277 ft (84 m) and see one of the most beautiful panoramic views of Florence.
If you do not have much time to visit Florence and have to choose between the Cathedral's bell tower and the dome, we recommend climbing to the top of the latter and witnessing Giorgio Vasari and Federico Zuccari's Last Judgment.
Tickets
The ticket entitles you to visit all monuments in 72 hours after first use and each place can be accessed only once. You can click here and acquire the ticket in advance through the official website. It can be used within 30 days of the reserved date.
You'll need to schedule the time for climbing to the top of the Cathedral and avoid the long queues that usually form, since, with the ticket, you do not have to go through the box office again.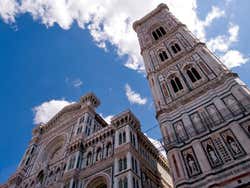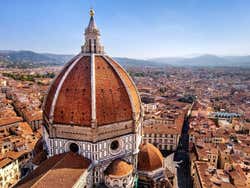 Schedule
Every day: from 8:30 am until 7:30 pm.
Price
Adults: € 30 (US$ 32.10)
Children (between 7 and 14): € 12 (US$ 12.90)
Children under 6: Free
(includes the entrance to the Cathedral, the Dome, the Baptistery, Crypt, Campanile di Giotto and the Museo dell'Opera del Duomo).