Where to Stay in Florence
Florence has one of the highest numbers of hotel beds relative to the population in the world. With less than 400.000 inhabitants, Florence has over 500 hotels and dozens of other types of accommodation.
Best places to stay in Florence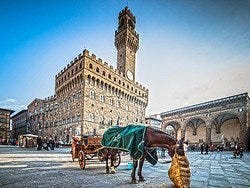 Piazza della Signoria
If you are traveling to Florence on holidays, the historic center is relatively small and is easy to explore by foot. Any hotel that is less than 15 minutes walk from the center is a good option.
Our favourite areas of Florence are Piazza della Signoria and Piazza del Duomo.
Hotels in Florence
Hotels in Florence are less expensive than in Rome or Venice. Tourists can book a double room with breakfast included from 60€ per night. You can book better hotels in more centric areas if you are willing to spend a little more on accommodation.
To find the best deals we recommend our search engine where you'll find the best accommodation rates guaranteed and discounts of up to 75%:
Serviced apartments in Florence
Serviced apartments are a great alternative to a hotel or hostel, especially if you are traveling with a big group of friends or your family. To find the best offers, check out our search engine:
Hostels in Florence
If you would rather book a hostel, Florence has several good hostels in the city center that cost from 10 € to 12 € per night. Although the average price is approximately 20 €.
The best websites to find hostels in Florence are:
Campings in Florence
There are several campsites near the city of Florence, for more information click on the following link: Florence Camping.