Battistero di San Giovanni, Florence
The Battistero di San Giovanni (Florence Baptistery) is the oldest building in Florence. Made out of white and green marble, it forms part of the Duomo Complex.
Located opposite the Florence Cathedral, the Battistero di San Giovanni is believed to be the oldest building of the Piazza del Duomo. Much like the other buildings on the square, the Baptistery's façade is coated in white and green marble.
The most surprising element of the Battistero's interior is the dome's Byzantine mosaic. The golden colour of the collage will remind you of the mosaic in the Basilica di San Marco in Venice (if you've been to this beautiful city).  
The Baptistery also features the tomb of Antipope John XXIII. The sepulchre was designed by Donatello and his pupil Michelozzo Michelozzi.
Gates of Paradise
The Battistero di San Giovanni has three doors, of which the most important is called the Gates of Paradise. These north doors were sculpted by Lorenzo Ghiberti, a 22-year old artist that took 26 years to complete (from 1426 until 1452).
The Gates of Paradise are made up of 10 bas-relief bronze panels representing several scenes of the Old Testament. The panels are now copies of the originals since these were moved to the Cathedral Museum in 1990 so they wouldn't get spoilt by Florence's harsh winters and summers. Another exact replica of these reliefs can be found in the Harris Museum, in Preston, UK.
Is it worthwhile visiting?
The Florence Baptistery only has one hall, which costs € 4 (US$ 4.20) to visit; therefore, we recommend only paying the entrance ticket if you are extremely curious to see what it looks like inside. For the rest, we believe it is enough seeing it from the outside.
Tickets
The ticket entitles you to visit all monuments in the 72 hours after first use and each place can be accessed only once. You can click here and acquire the ticket in advance through the official website. It can be used within 30 days of the reserved date.
You will need to schedule the time for climbing to the top of the Cathedral and avoid the long queues that usually form, since, with the ticket you do not have to go through the box office again.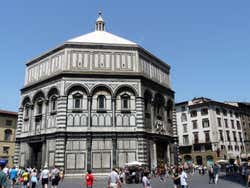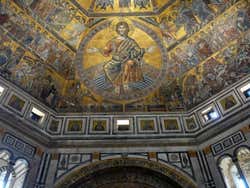 Schedule
Monday to Friday: 8:15 am until 10:15 am and from 11:15 am until 7:30 pm
Saturday: de 8:15 am until 6:30 pm
Sunday and the first Saturday of every month: 8:15 am – 1:30 pm
Price
Adults: € 20 (US$ 20.80)
Children (between 6 and 11): € 3 (US$ 3.10)
Children under 6: Free
(includes the entrance to the Cathedral, the Dome, the Baptistery, Crypt, Campanile di Giotto and the Museo dell'Opera del Duomo).