Getting around Florence by Public Transport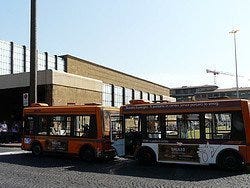 Electrical minibuses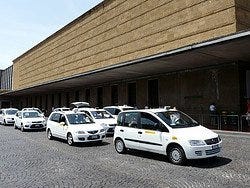 Taxis in the railway station
Florence is a great city to discover by foot. If you are staying in the city center or close-by you will not need to take any type of public transport.
If your hotel is a little further away, the best option is to take a bus into the historic center and back.
Bus
The Florence bus network consists of nearly 100 lines, of which 4 are night buses.
Visitors will find that the buses A, B, C and D are the most useful. These routes are carried out by mini electric buses that run through Florence's city center. You could even take one of these instead of a hop on, hop off bus to see the sights of the Renaissance city. These buses run from 8 am to 8 pm.
The normal-sized buses that are useful for tourists are numbers 12 and 13. Both routes run to Piazzale Michelangelo and San Miniato al Monte Basilica.
Tram
The Florence tramway network was inaugurated in 2010 after five years of construction. It currently consists of one light rail line.
The Florence tram is not very convenient for tourists since none of its lines go past the city center.    
Travel card and ticket prices

Taxi
Florence taxis are the most expensive in Europe (costlier than taxis in Amsterdam). Here are some examples of prices:
Minimum fare on week days: 3.3€
Minimum dare on weekends and holidays: 5.3€
From 10 pm onwards: 6.6€
Price per kilometre: 0.98€
Extra charge per suitcase: 1€
Extra charge for a fourth passenger: 1€
Extra charge for reserving by phone: 2.20€