With decoration harking back to the palaces of Venice, and an architectural style which defines the city, the Palazzo Vecchio is one of the most interesting sights in the city.
The most impressive building in the Piazza della Signoria is the Palazzo Vecchio. The palace is built like a fortress with crenelated walls and a 309 ft (94 m) tower. It is one of the city's most important symbols.
The palace was founded between 1299 and 1314 and was used as a residence and place of work for the ruling body of the Republic of Florence. Throughout the centuries the palace had several uses and its name changed according to its usage. From Palazzo della Signoria it was later renamed Palazzo Vecchio by Cosimo I de' Medici, when the court was removed to Palazzo Pitti.
Above the front entrance, there are two enormous statues, on the left hand-side is a copy of the white marble statue of David by Michelangelo (the original is currently located in the Accademia), on the right hand-side is the white sculpture called Hercules and Cacus by Baccio Bandinelli.
Salone dei Cinquecento
The Salone dei Cinquencento (Hall of the Five Hundred) is one of the most remarkable chambers in the palazzo. Tourists will walk into it almost immediately during the visit. It has a length of 177 ft (54 m), 72 ft (22 metres) broad and 55 ft (17 m) high, making it the largest hall in the building and Florence. Presently, the Salone dei Cinquencento is still used for the same purposes as it was during the time of Cosimo I de'Medici, to give audience to the people and for special events.
If you have already been to Venice, the dimensions and decoration of this hall will remind you of the Scuola Grande di San Rocco.
Is it worthwhile?
Although the Palazzo Vecchio is not as renowned as the Uffizi Gallery or the Galleria dell'Accademia, it is one of our favourite places to visit in Florence. Each room has a unique personality, which reminded us of the beauty of the most famous Venetian palaces.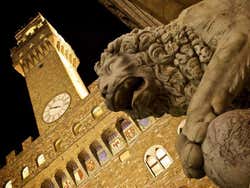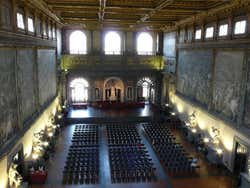 Schedule
From 1 April until 30 September:
From Friday to Wednesday: 9 am until 11 pm.
Thursday: 9 am – 2 pm
From 1 October until 31 March:
From Friday to Wednesday: 9 am until 7 pm.
Price
Tower and battlements: 
Adults: € 12.50 (US$ 13.40)
From 18 to 25 years old: € 10 (US$ 10.70)
Under 18s: Free.
Museum:
Adults: € 12.50 (US$ 13.40)
From 18 to 25 years old: € 10 (US$ 10.70)
Under 18s: Free.
Palazzo Vecchio Guided Tour € 45 (US$ 48.20)
Transport
Bus: lines C1, C2 and D