Firenze Card
The Firenze Card is a Museum Card of Florence, which offers free entry to the main museums, churches, villas and historic gardens in Florence. Moreover, it also offers fast track priority skip the line admission tickets and it gives visitors free usage of the city's public transport during the 72 hours that the card is valid.  
The Firenze Card includes a small guide with information on the opening times and directions of the city's top attractions which you can visit with this Museum Card.   
What top attractions are included?
The following attractions are comprised in the Firenze Card: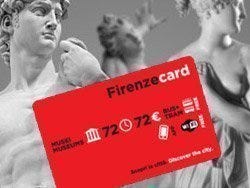 Firenze Card
To see all the attractions included in the Firenze Card check out their official webpage:
Prices
There is only one version of the Firenze Card, which is valid for 72 hours and costs 72 €. The card is valid once you visit the first museum with it or use the public transport system. It is then valid for the next three days.
Where to purchase the Firenze Card?
The card can be purchased online or bought in the following top attractions:
Museo di Santa Maria Novella
Palazzo Pitti
Museo di Palazzo Vecchio
Museo Stefano Bardini
Cappella Brancacci
Museo Nazionale del Bargello
Uffizi Gallery
Palazzo Strozzi
Tourist information office in Piazza Stazzione
Tourist information office in Via Cavour
Is the Firenze Card worth purchasing?
If Florence was a little bigger and you needed to take public transport to get around the city, the Firenze Card would be a bargain. However, it is unlikely that you will need to take Florence's local buses more than once or twice during your stay, which makes the Firenze Card less appealing.