To pass through these gardens is to relive the history of the Medici family, who occupied the Palazzo Pitti in the middle of the 16th century. The Boboli Gardens are the largest in Florence.
Hidden behind the Palazzo Pitti are the Boboli Gardens. These stretch out over 45.000 square metres, making them the largest green-space in Florence.
The park dates back to when the Medici family bought the Palazzo Pitti in 1550. When it was first designed, the gardens only ran from the palace to the Forte di Belvedere. Later, during the seventeenth century, the green-space was extended to the southeast of the city.
The gardens were open to the public in 1766.
Things to see in the Boboli Gardens
Caves, fountains, pergolas, a small lake and hundreds of white marble statues. If you want to explore the gardens without rushing, you will need two or three hours.
The most beautiful part of the park in our opinion is the old amphitheatre. In the centre is an Egyptian obelisk that was taken from the Medici Villa in Rome.
The scarce green-spaces in Florence
Florence lacks parks, gardens and green spaces in general, where locals and visitors can rest and relax. The Boboli Gardens are one of the only alternatives, but to be honest, its limited opening hours and the fact that you need to pay an entrance fee makes this park a little difficult to access.  
As a tourist attraction, it is definitely worthwhile visiting.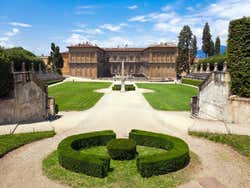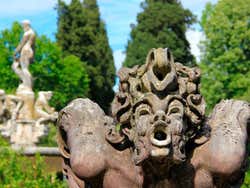 Schedule
November to February: 8:15 am to 4:30 pm
March and October: 8:15 am to 5:30 pm
April, May and September: 8:15 am to 6:30 pm.
June, July and August: 8:15 am to 7:30 pm.
The Gardens close the first and last Monday of every month.
Price
From March to October
Adults: € 10 (US$ 10.70)
Students (18 to 25): € 2 (US$ 2.10)
From 1st November to 28th February
Adults: € 6 (US$ 6.40)
Children (18 to 25): € 2 (US$ 2.10)
Children (under 18): free entry
First Sunday of the month: Free
Transport
Buses: 11, 36 y 68.