Florence Transport Tickets and Travel Cards
Depending on the use you will get from the public transport sysetem in Florence, and the length of time you're planning to stay, you can choose one of several tickets.
There are several types of tickets and travel cards for Florence's bus and tram network system. Choose the best suited for your needs: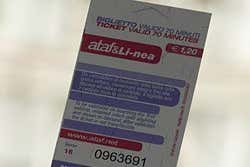 Travel ticket for Florence's transport system
One-way ticket
A transport one-way ticket in Florence lasts 90 minutes since you first validate it. Once you get on a bus, you need to put your ticket into one of the ticket validating machines. From that moment your card lasts up to 90 minutes, so you can get on and off other buses during this time with the same ticket. It costs €1.20. 
4-journey ticket
A 4-journey travel ticket costs €4.70 and can be shared by several people.
Carta Agile 10
The Carta Agile 10 is an electronic card of ten 90-minute tickets. If you purchase this card, you can share it with your family or friends during your stay in Florence. The card costs €10; therefore, €1 per journey.
To see how many journeys are left on your card, place it in front of the validating machine and press the "info" button.
Carta Agile 20
The Carta Agile 20 is like the Carta Agile 10 but has 21 90-minute journeys. It costs €20, so each journey costs €0.95/ticket.
24-hour travel card
A 24-hour travel card gives you unlimited access to Florence's local buses for one day (24 hours) since you first validate the ticket. It costs €5.
Note that you need to write your name on the back of the ticket before you validate it, otherwise you could get fined.
3-day travel card
This card can be used until midnight of the third day after validating it. It can only be used by one person and costs €12.
Where to purchase the tickets?
The ATAF bus tickets can be purchased in any newsagent or kiosk. You can purchase a bus ticket directly from the driver for €2 if you haven't yet got a ticket.