Museo Nazionale del Bargello
Although not as well known as some of Florence's other museums, the Bargello has the largest collection of Italian sculptures from the 14th to the 16th centuries. The price of entry is worth it to see the building alone.
The Museo Nazionale del Bargello gathers together the largest collection of Italian sculptures dating from the fourteenth to the sixteenth century. It also houses weapons, armour, Medici medals and other objects made of bronze and ivory.
Established in 1255, the Palazzo del Bargello is shaped like a fortress with crenellated walls. The building was damaged on several occasions and was remodelled many times during the century following its construction. In the mid-fourteenth century, it adopted its current form.  
The museum was opened to the public in 1865 and features works of art like the David by Donatello or the Bacchus by Michelangelo.
Alternative uses for the Palazzo del Bargello
In the beginning, the Palazzo Bargello was used as the ducal family residence and as the seat of the Florence government.
From 1574 until the mid-nineteenth century, the building was used as a prison and dwelling of the police captain of Bargello. Several executions were held in the palace's patio until the late eighteenth century.
Is it worth visiting?
Even if the museum didn't feature one of the largest collection of Italian Renaissance sculpture and other equally important objects of art, it would still be, in our opinion, one of the most interesting museums in Florence. As with the Palazzo Vecchio, the architecture and the decoration of the three floors alone make it worth visiting.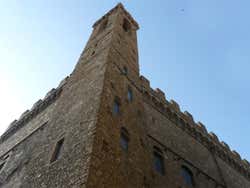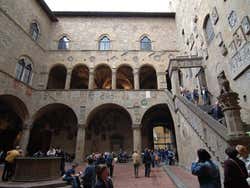 Schedule
From Monday to Sunday: 8:15 am until 5 pm.
Closed: second and fourth sunday of every month, first, third and fifth Monday of every month
Price
Adults: € 8 (US$ 8)
Young people (aged 18 to 25): € 4 (US$ 4)
Children (under 18) and Seniors (over 65): Free
Prices may vary when there are temporary exhibitions.
Transport
Bus: lines A, 14 and 23