Sitting high on a plateau to the south of the Arno river, Piazzale Michelangelo is without doubt one of the best places to admire Florence in all its splendour. 
The Piazzale Michelangelo offers one of the best panoramic views of Florence, where you will be able to contemplate the whole city in all its splendour.
The large piazza houses a replica of Michelangelo's David in bronze. It also has numerous restaurants and cafés, where you can sit and enjoy the views. If you don't want to spend very much money you can also purchase good Italian ice-cream or snacks from any of the refreshment stands in the square.
Getting to Piazzale Michelangelo
Visitors can either walk all the way up to the square from the banks of the Arno River (there are several footpaths that are well marked). However, in our opinion, the easiest way to get to the Piazzale is by taking the buses 12 or 13, which will leave you directly in the square.
We recommend getting to Piazzale Michelangelo by bus and then head down to the city centre by foot. In less than 15 minutes you will be by the Ponte Vecchio.
Some advice
If you want to take good photos of the views, the best time to climb to the Piazzale Michelangelo is at noon. At dusk, it will be very difficult to take good photos as you will be backlit by the sun.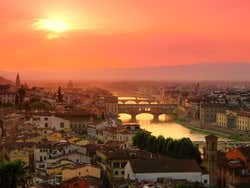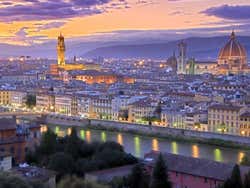 Transport
Bus: lines 12 and 13